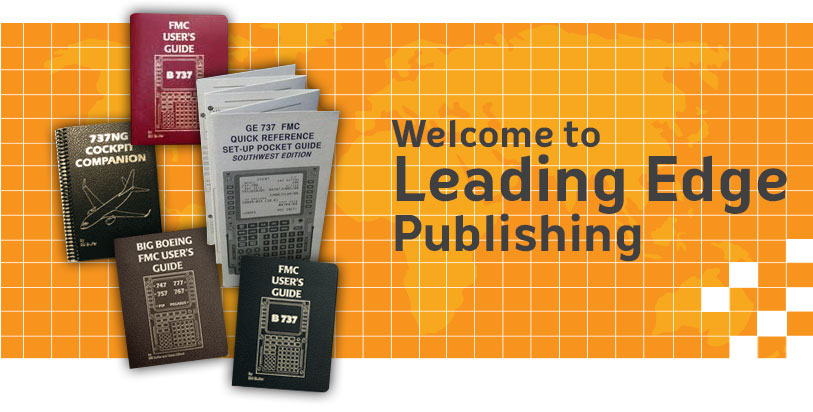 Please no orders from

California

. The taxes and paperwork make it too time consuming.
from Toronto, check with

ThresholdAviation.com
from Amsterdam, check with

AviationMegastore.com
from England, check with

Transair.co.uk

or

AFEonline.com



from Germany, check with

SkyTest.com
New Shipping Method to Europe and Australia/New Zealand.
(Experimental)
FedEx and DHL have become too expensive.
Since covid,
DH

L wants $150 to ship a single book to Europe! FedEx about half that.

US Post Office International Priority is about $40, however I don't think there is tracking.
Here is my offer.

If the book is lost, I will refund $40.00.
When you order, choose Pay by PO (Purchase Order). We will then finish the process via email.
I have discontinued printing the Big Boeing FMC Guide.
It's gotten out of date and I have no way to update it.
I have been off the airplane for a long time!
The B737 FMC Guide is available thru the app on a subscription basis.
COCKPIT COMPANION FOR IPAD:
I am pleased to announce I have teamed up with Robert Dorsett to produce the Cockpit Companion iPad app (CCIPAD).
It includes Classic, NG, and MAX models.
Note:CCIPAD requires iPad version 2 or later.
Using your iPad, do a search on the App store for B737. The two CCs will take you to the Cockpit Companion.
For a better description please visit Robert's web site at:
www.airlinerapps.com
My E-mail: n2267g@icloud.com

Mail: Leading Edge Publishing, PO Box 2868, Merced, CA 95344-0868 USA
Mobile: 209 233 1440
IMPORTANT ORDER NOTES:
This web site uses Paypal

.
If you do not have a Paypal account I can use your credit card or take a check drawn from a US bank.
Choose the PO method of payment and then contact me via email.
SHIPPING NOTES:
If you need a book shipped immediately, follow up with an email.
I normally do not ship every day. This is a one-person operation.
DOMESTIC shipping:
I use both USPS Priority Mail and FedEx Ground.
INTERNATIONAL shipping: (outside US)
I can use FedEx for international shipments but it's expensive.
For a very good Quick Review Card, copy and paste into your browser.
http://www.brucesprague.com/qrc/qrc-quick-review-cards-june.pdf