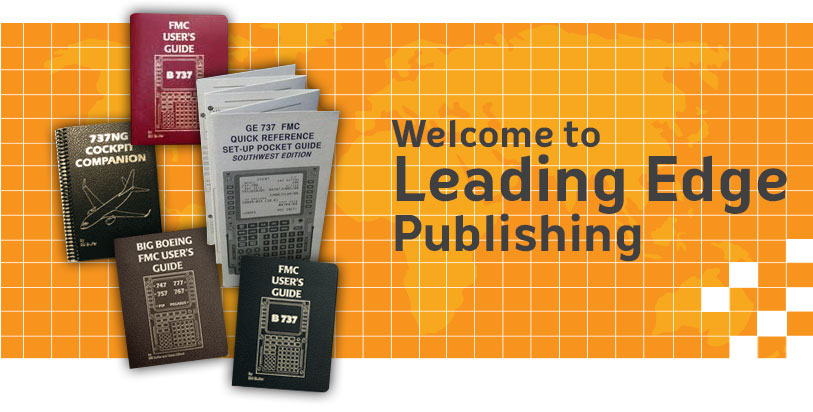 Please no orders from California. The taxes and paperwork make it too time consuming.
I have discontinued printing the Big Boeing FMC Guide.
It's gotten out of date and I have no way to update it.
I have been off the airplane for a long time!

COCKPIT COMPANION FOR IPAD:
I am pleased to announce I have teamed up with Robert Dorsett to produce the Cockpit Companion iPad app (CCIPAD).
It includes several different models and airline configurations.

Note: CCIPAD requires iPad version 2 or later.
Using your iPad, do a search on the App store for B737. The Cockpit Companion CC's will display.
Touch the cockpit display to get to the Reviews tab.
For a better description please visit Robert's web site at:
www.airlinerapps.com
My E-mail: billbulfer@comcast.net

Mail: Leading Edge Publishing, PO Box 2868, Merced, CA 95344-0868 USA
Mobile: 209 233 1440
IMPORTANT ORDER NOTES:
This web site uses Paypal
. If you do not have a Paypal account I can use your credit card or take a check drawn from a US bank.
Choose the PO method of payment and then contact me via email.
SHIPPING NOTES:
If you need a book(s) shipped immediately, follow up your order with an e-mail.
I normally do Not ship every day. This is a one-person ops.
DOMESTIC shipping:
I use both USPS Priority Mail and FedEx Ground $7.00.
INTERNATIONAL shipping: (outside US)
I normally use FedEx for all international shipments.

It's fast and allows tracking.
There is no tracking with the US Priority Mail for international orders.